[vc_row][vc_column][vc_column_text]The event was located at a state-of-the-art facility in Fairfield, New Jersey which focuses on the in-stock materials of Large Format Porcelain Tiles. The hands-on tool and installation demonstrations of Large Format Tile applications were informative and allowed onlookers to see the benefits of the large panel size installation techniques.
ProSpec, LLC®, is a prominent Northeast Regional presenter of building materials distributed by wholly owned supply Companies: ProTile, ProTerrazzo, ProStone, ProWood and ProExterior Systems.
ProSpec, LLC® represents well respected manufacturers of interior and exterior finishes and system solutions including: Porcelain tile, quartz countertops, engineered wood flooring, thin set epoxy terrazzo, exterior cladding systems, installation materials and terrazzo systems. www.prospecllc.com
Program Featured 2 Sessions:
Hands On: Fabrication and installation training with MAPEI and Alpha Tools. Classroom:  AIA Accredited CEU Presentation: Gauged Porcelain Tile Systems (Program Title: MAP055, 1 LU/HSW IDCEC)
Participants gained an understanding of the design benefits and possibilities of large format porcelain. They also reviewed installation methods on how to use the gauged porcelain tools for: Cutting, Troweling, Lippage control, and Countertop on site fabrication.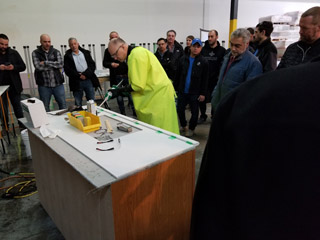 Casalgrande Padana, the leading manufacturer of Italian porcelain tile, showcased their innovative and impressive Large Format Tile throughout the New Jersey facility. This newest location is specifically designed to receive, display, and transport large panel porcelain materials using the latest industry proven tools including our custom-built crane. The featured nominal sizes include 18"x36", 36" x 72", 24" x 48", 46" x 102" and 63" x 126", which are routinely stocked and available for immediate installation.
MAPEI Corporation, a leading manufacturer of adhesives, grouts and related care products for the construction industry, featured a live demonstration of waterproofing and shower stall installation including AquaDefense, Ultraflex LFT, LHT and Ultralite Mortar Pro to adhere the large panels to the onsite mock up structure.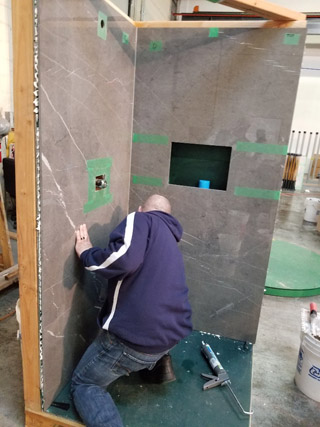 Alpha Professional Tools featured a large demonstration area for their precision grinding and polishing tools at the event. The demo showed off their precise edge tools whether the material was mitered, beveled or straight. These products for the seamless countertop installations have impressed fabricators.
ProSpec, LLC® focuses on product presentation and recommendation to the project team – the owner, architect, designer and consultant. Other groups within the company – ProTile, ProStone, ProTerrazzo, ProWood and ProExterior Systems – were designed to provide contractors with customer service and logistics for materials that are delivered on time and on budget. This holistic approach to architects' and builders' needs provides an efficient and appreciated service.
For ProSpec, LLC® success is through project marketing, specification and successful supply through our distribution companies.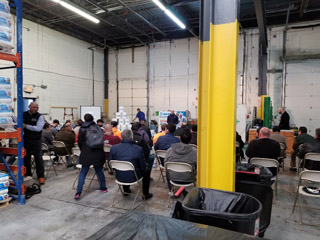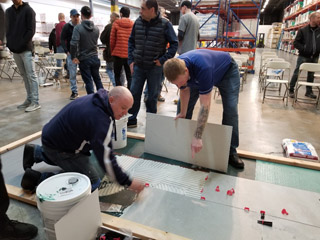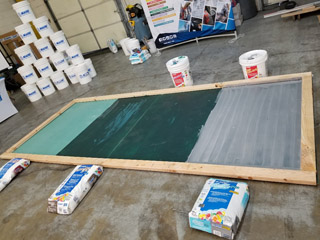 [/vc_column_text][/vc_column][/vc_row][vc_row][vc_column][vc_wp_posts number="4″ show_date="1″][/vc_column][/vc_row]